The Society of Heraldic Art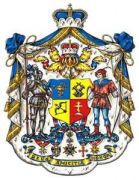 Natalie Yegerova SHA+ click image(s) to enlarge.
Natalie is an heraldic artist and Dolphin Pursuivant associated with the Russian College of Heraldry (in Latin: Collegium Heraldicum Russiae, CHR), which was officially re-established in 1991 under the high patronage of His Imperial Highness The Grand Duke Vladimir Kirillovich in his capacity as Head of the Imperial House of Romanov.
From that time until his sudden death in 1992, the Grand Duke wholeheartedly supported all efforts made to revive heraldry in Russia and to re-establish the Imperial College of Arms. Such patronage was not only encouraging but indeed indispensable to the renaissance of the Collegium.
Although the Russian Nobility had used Arms, Seals and Banners since time immemorial, Russian heraldry only became standardised and registered as recently as 1722. Czar Peter the Great established the first Imperial College of Arms (Geroldia) and modelled it after the French and German system. After the Bolshevik revolution of 1917, all forms of Imperial Heraldry were removed, defaced or destroyed and a completely new and unique system of heraldic expression came into being featuring the Communist Hammer and Sickle.
Collegium Heraldicum
PO Box 2677
Kirov
610031
Russia
Tel/Fax: 7 (8332) 631-607
Email: armorial@yandex.ru or vyegorov@armorial.kirov.ru