The Society of Heraldic Art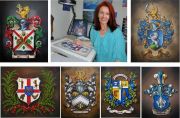 Susi Galloway-Newell SHA+ click image(s) to enlarge.
Available for commissions. I acquired my skills as a Heraldic Artist in Switzerland during 4 years of formal study and training under the tutelage of an Heraldic Master. During that time I was member of the Swiss Heraldic & Genealogical Society. Later I relocated abroad and expanded my artistic horizons into fine art, illustrations, and design. Currently, I reside in the State of Idaho, USA. Heraldry has remained a passion and is one of my artistic specialties. With many years of professional experience I have designed and painted countless coats of arms and family trees for individuals, fraternities, businesses, nobility, and churches throughout North America, Europe, the Middle East, and Asia.
My work as an Heraldic Artist covers the designing and painting of intricate coat of arms, shields, family trees, monograms, and calligraphy. I also provide digitally designed coat of arms in more modern styles; they are less costly, and work beautifully as logos and stationery, etc., for businesses and professional organizations.
Official Websites: www.coatofarmsartist.com and www.susigalloway.com
Painted coat of arms: www.coatofarmsartist.com/coatofarms.html
Digital designs: www.coatofarmsartist.com/digitalcoatofarms.html
Family trees: www.coatofarmsartist.com/familytrees.html
E-mail: sgnsha@coatofarmsartist.com