The Society of Heraldic Art

John Ferguson ARCA. FRSA. FHS. DFACH. FSHA +click image(s) to enlarge.
John Ferguson is a founder member of the Society of Heraldic Arts. He specializes in heraldic paintings, the designing of bookplates and heraldic illustration.
Paintings and line drawings by John Ferguson are executed in gouache colour and prepared on heavy-weight, fine quality paper with a vellum finish.
The artist's considerable experience in producing artwork for reproduction both in half-tone and letterpress printing imparts a bold, crisp quality to his work which makes it ideal for printing and embossing.
John is no longer practising, but remains a highly respected and valued Fellow of the Society.
46 Reigate Road
Reigate
Surrey
RH2 0QN
United Kingdom
Telephone: +44 (0) 1737 242945

Baz Manning + click image(s) to enlarge.
Wall shields can be cut to any shape and any size, from 3 inches up to several feet high. They are built from hardwood or sheet timber. They can be finished in paint systems which give a maximum life in harsh exterior conditions or for interior display where they will become future heirlooms.
Prices vary according to size, shape, timber, paint system and the complexity of your arms but an average price for a 7.5 inch high heater shield in mahogany curved in two planes is £550 while a 2 foot high tilting shield in MDF may be £700.
TABLE SHIELDS
I have designed the table shield to be a unique and easily transportable alternative to the rather fragile table banner. These are painted with your shield of arms for use at a formal occasion such as a dinner. Most shield shapes can be used as well as lozenges and ovals, which slot into a brass pole on a hardwood base. The 3 sections are housed in a black velvet bag which is usually small enough to fit into a dinner jacket pocket or a small handbag and is currently free. The reverse of the shield can be painted with the same arms as the front, just like the square silk banner, but being timber it does not have to have a mirror image: it can feature your marital arms, historic quarterings, arms of office, a badge, or even your crest. Prices from £380. I use signwriting enamels for the artwork on these items, along with gold leaf as a matter of course. Imitation silver leaf can also be used in place of white when appropriate, with aluminium and platinum leaf both being popular and tarnish free.
ALSO:
Library paintings: coats of arms painted in gouache on paper and art board in contemporary and period styles. Plaques in hardwood, to any shape and size, stained, grain filled and lacquered. Army, navy, marine and air force military unit badges.
Vehicle heraldry: car door transfers, bonnet shields, magnetic roof plaques for official mayoral or royal cars. Church heraldry renovated: hatchments, Royal arms. Furniture painted: hall or porters' chairs, coffee tables, fire screens, trays. Printers' artwork. Artwork for other craftsmen: computerised sign makers, stone masons, carvers, screen printers, silversmiths, glass and tankard engravers and shot blasters, glaziers. Heraldic signs, house signs, masters' shields, monograms, castings arranged and Painted, embroidery cartoons. Heraldic research and recording. Heraldry photographed in print, slide and digital format. Special and unusual commissions always considered.
Email: bazmanning@btinternet.com and heraldicartist@hotmail.co.uk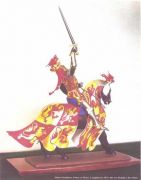 Brian Rodden + click image(s) to enlarge.
Heraldic miniaturist Brian was born in Washington, D.C.in 1938 and lived in Washington for ten years before moving to New Brunswick, New Jersey, in 1948. He currently lives in Dover, New Hampshire, where he has been residing since 1970.
Qualifications:
B.A. Degree - Rutgers University 1960 Masters in History -- University of Wisconsin 1963 Ph.D. in History -- Rutgers University 1967 Taught history at Stonehill College 1968-1970 Work as Artist: Work with miniature sculptures since ten years old. Full time work in sculpture 1970. First commissions through Boston jewellers and antique dealers Shreve, Crump, and Low Co. 1975 Began work with Lance Corporation of Hudson, Massachusetts, in creating sculptures for national distribution

Awards:
1976 National Sculpture Society's Award for traditional sculpture.
1978 MFCA First Prize for portrayal of Henry IV, King of England.
142 Sligo Road
Rollinsford
New Hampshire
03869
USA.
Telephone: 603-742-7480