The Society of Heraldic Art

David F Phillips SHA+ click image(s) to enlarge.
David trained in American universities as a lawyer and librarian and is a heraldic scholar in San Francisco. He has been studying in heraldry and related fields for 65 years. Although a keen appreciator of heraldic art, he has not the skill in his hands to create it himself, so instead he writes books and articles about it. His most recent book, The Double Eagle, was published in December 2014. Other works are available on the Heraldry page of his website, where he also answers heraldic questions and buys heraldic books. David Phillips is a Trustee of the Flag Heritage Foundation.Ing. Jan Juna SHA
2331 – 47th Avenue,
San Francisco,
California,
94116 USA.
Website: www.radbash.com
Email: dfp18@columbia.edu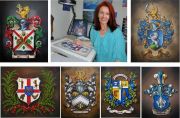 Susi Galloway-Newell SHA+ click image(s) to enlarge.
Available for commissions. I acquired my skills as a Heraldic Artist in Switzerland during 4 years of formal study and training under the tutelage of an Heraldic Master. During that time I was member of the Swiss Heraldic & Genealogical Society. Later I relocated abroad and expanded my artistic horizons into fine art, illustrations, and design. Currently, I reside in the State of Idaho, USA. Heraldry has remained a passion and is one of my artistic specialties. With many years of professional experience I have designed and painted countless coats of arms and family trees for individuals, fraternities, businesses, nobility, and churches throughout North America, Europe, the Middle East, and Asia.
My work as an Heraldic Artist covers the designing and painting of intricate coat of arms, shields, family trees, monograms, and calligraphy. I also provide digitally designed coat of arms in more modern styles; they are less costly, and work beautifully as logos and stationery, etc., for businesses and professional organizations.
Official Websites: www.coatofarmsartist.com and www.susigalloway.com
Painted coat of arms: www.coatofarmsartist.com/coatofarms.html
Digital designs: www.coatofarmsartist.com/digitalcoatofarms.html
Family trees: www.coatofarmsartist.com/familytrees.html
E-mail: sgnsha@coatofarmsartist.com

Ronny Andersen, aih, FSHA+ click image(s) to enlarge.
Royal Heraldic Painter, Danish Court
I specialize in producing quality heraldic artwork and illustrations. I can be commissioned for paintings of your coat-of-arms, heraldic badge or similar for display, for illustration, for reproductions, for use on stationery etc. in full colour or as line drawings. The design of heraldic bookplates is a particular joy.

I also devise new armorial bearings for individuals, institutions and companies unless their country of origin has established official heraldic authorities.

Paintings are executed on gouache on quality paper or, if requested, on vellum. Illustrations, heraldic or historical, for books, magazines or similar, are also available.

The world of heraldry is full of possibilities, and I will happily discuss any idea you might have for a commission. Full consultation and quotations gladly given.
Website www.arsheraldica.dk
Email: info@arsheraldica.dk

James Winstanley SHA+ click image(s) to enlarge.
Last year I worked with the Royal Armouries in Leeds to lay on an exhibition of Heraldry - the main theme being he Tudors. I was very busy with Artwork for this exhibition - the arms and supporters of all the Tudors from Henry VII to Elizabeth I and other political figures of the time. At present I am working on the artwork for my next lecture at the Royal Armouries entitled "Heraldry in our Country Houses" which is organised by The Yorkshire Heraldry Society where I am a member. I am also available for commissions in respect of heraldry, calligraphy, illuminating and guilding.
Email: jimwinstanley23@btinternet.com