The Society of Heraldic Art
Michael Leal ASHA
Michael Leal, sculptor and heraldic artist, trained at the City & Guilds of London Art School, after previously completing a physics degree.
While there he won major awards from the Worshipful Company of Joiners and Ceilers and the Honourable Society of the Knights of the Round Table.
In his third year he was selected to be the Chosen Carver for the Worshipful Company of Fishmongers (2016). He is currently working on replacement fireplaces for a Georgian house in Soho, restoration work in Parliament and has taken on new commissions and restoration in several City of London churches.
Website: http://michaellealwoodcarving.blogspot.co.uk/fb.me/mlealcarving
Email: mickleal@googlemail.com
Tel: +44 (0) 7841574910
Image Gallery
Akira Inman ASHA
Akira Inman, carver and dry-stone waller, is currently completing his third year of study leading to the highly-regarded Diploma in Historic Stone Carving at City & Guilds of London Art School.
Akira was recently awarded the Taylor Pierce Drawing Prize for Carving and Conservation as well as taking up Associate Craft Membership in the Society of Heraldic Arts having been awarded an Anthony and Margaret Wood Marketing Bursary.
His carving was on display at the XXII International Congress of Genealogical and Heraldic Studies.
In addition to his training at City & Guilds of London Art School, Akira is a practicing masonry restorer and dry-stone waller with work in Canada, Japan and the United Kingdom.
Akira can be reached on akira.inman@gmail.com or +44 (0)7478 945355
Image Gallery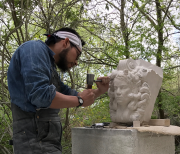 Kate Lacey SHA + click image(s) to enlarge
Counted cross stitch pattern-maker and embroiderer. I passed The Heraldry Society Advanced Examination in 1987. Since then I have run Introduction to Heraldry art courses and associated activities. I now research design, make patterns and cross stitch heraldic subjects. My cross stitch patterns are made in the traditional manual way – squared paper, graticules and my technical drawing instruments.
I offer two different designs:
1. An appropriate charge with the surname beneath and a decorative border.
2. An appropriate charge and motto with a decorative border.
Address: Mrs K J Lacey SHA 5, Home Farm Road, Fremington, Barnstable, Devon EX31 3DH
Phone: 01271 373086

Dr. Antonio Salmeron SHA + click image(s) to enlarge

Dr. Antonio Salmeron SHA The aim of my heraldic art is to transmit the life force and free expression of a coat of arms - the blend of ideals and the history of its bearer.
The creation is drawn entirely by hand and the resulting image is then enhanced by a unique combination of digital imaging procedures.
Commissions have come from individuals, businesses, associations, religious orders and universities. I have satisfied customers in Australia, Chile, France, Italy, Mexico, New Zealand, Spain, South Africa, the United Kingdom, the USA.
I hold a PhD cum laude, a Masters degree, a Specialization and an Academic Grade from four different universities.
Address: Paseo de la Castellana 135, planta 7, 28046 Madrid.
Spain mobile: (+34) 690 855 320
email: asalmeron@blason.es
Website: http://www.blason.es