Alexander Lindsay - M.A S.H.A.+click image(s) to enlarge
I was born in 1936 and my father was an enormously versatile artist and craftsman.
After leaving Oxford (MA Engineering Science) in 1960 I joined the Army. 30 years later, having acquired a degree in mathematics from the Open University, I joined Cranfield University as a lecturer in mathematics. At last I had the stability and time to try to emulate my father. Various courses in cabinet making and other woodworking skills led me to the craft of marquetry. It suited my aptitudes: patience, perfectionism and a love of wood. Since then I am largely self-taught. The work is demanding and immensely slow. Each piece of veneer is cut by hand with a scalpel and fitted into an identical hole in another veneer. Some pieces are so small that I have to hold my breath to avoid blowing them away.
I exhibited in London, with other artists, in 2003 and 2008 and at other provincial events. My work is not only connected with heraldry.
Address: Col Alexander Lindsay, Foxleaze, Preston, Cirencester, Glos GL7 5PS
Telephone: 01285655875 and 07726723848
Email: atlindsay@btinternet.com
Website: www.lindsaymarquetry,co.uk
Neil Bromley SHA + click image(s) to enlarge
Neil Bromley studied art at college for six years, graduating with an H.N.D. in Calligraphy and Heraldry at Reigate School of Art in 1995. Whilst studying at Reigate he was awarded two bursaries from the Worshipful Company of Scriveners and the Company of Painters/Stainers.
Neil lives in Devon and has established himself in Exeter as an Heraldic Artist and Illuminator. He is a member of the Devon Guild of Craftsmen.
Neil is an elected Craft Member of the Society of Heraldic Arts.
His work includes paintings of full coats of arms, honorary scrolls and grants of arms. He also produces heraldic work for reproduction, calligraphic work, and the reproduction of medieval manuscript pages.
All work is produced on vellum. He uses 23.5K gold leaf and gesso where possible as well as shell Gold along with other medieval techniques. The durable quality of his materials ensures that the documents will last for a long time and are finished to the best possible standard.
Neil attended the 2006 Genealogical and Heraldic Congress in St. Andrews (Scotland) and was awarded the Barden Prize for outstanding work.
He is currently designing coins for Westminster collection as well as other ongoing private commissions.
Website: www.calligraphyandheraldry.com
email: mail@calligraphyandheraldry.com
Tel: 01392 444190

Edward M. Kelly SHA + click image(s) to enlarge

My initial training was in graphic design. I then spent two years at Reigate School of Art studying heraldic art and calligraphy. I have a special interest in producing art-work for reproduction such as heraldic logo designs. I endeavour to produce simple and clear work in an original style, while maintaining the best traditions of heraldic art.
46 Palmerston Road
Rathmines
Dublin 6
Ireland
email: edmyleskelly@gmail.com
website: www.edmyleskelly.com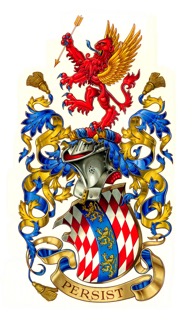 Named in honour of the President of the Society of Heraldic Arts, Anthony Wood, PSHA, and his late wife Margaret, a Queen's Scribe.
These marketing bursaries are awarded annually to selected students of the City & Guilds of London School of Art who have shown a particular ability to design and create beautiful heraldry.

The bursary is designed to assist these talented new artists to establish a presence in the international heraldic marketplace.

The bursary consists of:
Associate Craft Membership for two years.
A presence on the SHA website for two years
One to one mentoring by an established Craft Members of the SHA in marketing and sales of work
Assistance in publicising work already done in the quarterly journal The Heraldic Craftsman.
The selection of Bursary winners is the responsibility of the City & Guilds of London School of Art which will then pass on the administration of the scheme to the Hon Editor in the first instance.
Tim Crawley, head of historic carving at the School says: 'This is an imaginative and potentially valuable, practical assistance at a critical moment in a student's career. The SHA is to be commended on this initiative.'
Peter & Gilly Greenhill SHA +click image(s) to enlarge

Decorative heraldic painting on pewter miniatures of mediaeval knights was developed in the 18th & 19th centuries, and leaders in these arts included Adam Schweitzer and Carl Besold of Germany. But it wasn't until 1928 that Richard Courtenay started making a fully rounded miniature figure of an heraldic knight. By his death in 1963 he had produced several thousand lead examples. From 1978 to date Peter & Gilly Greenhill continue this tradition using finest pewter.
Today most of this work is exported to America with a concentration on the battles of the Hundred Years War, featuring known knights from mediaeval Europe.
Peter & Gilly Greenhill
5 Westbourne Park Road
Bournemouth
BH4 8HG
England
tel: 01144 (0)1202 762371
website: www.greenhillminiatures.com